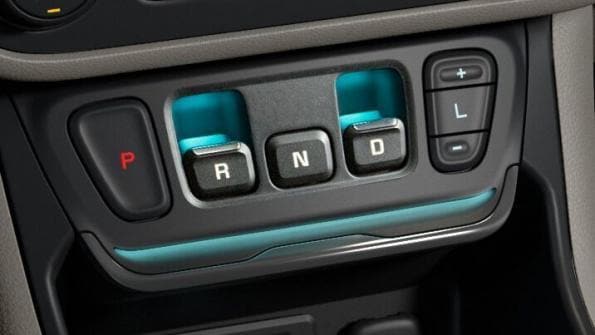 If you're planning on checking out the 2018 GMC Terrain, one key change is sure to stick out: the lack of a gearstick. GMC is rolling out its new Electronic Precision Shift System for the upcoming model year, trading in the space-consuming stick for an easy-to-use, push-button system.
Switching the 2018 Terrain into drive or putting it in park is now simpler than ever thanks to the automaker's unconventional new gear selector. Located on the bottom of the center stack, the system fits in seamlessly, opening more storage space in the center console.
Drive and reverse are easily activated by pulling up on a switch that looks similar to a power-window control, while park, neutral and low are utilized through buttons. While this new system will certainly be unfamiliar territory for most drivers, the automaker designed it to be highly intuitive, meaning users will be able to pick up on it quickly. It's also been thoroughly consumer-tested.
The automaker also took into account the various concerns surrounding a push-button system, such as accidentally selecting the wrong gear. By differentiating the switches for drive and reverse from other functions and separating the switches with the neutral button, this system reduces such risks.
The 2018 GMC Terrain is headed to Husker GMC later this summer. Contact us now to be notified when the redesigned crossover is available on our lot!