17 years ago, GMC revolutionized the pickup truck world by introducing the Sierra Denali. Full sized pickup trucks moved into the premium world. Now, the babies who grew up riding within the safe environment of the Sierra reached driving age just in time to navigate the new features behind the wheel themselves. Take a look at the redesigned 2019 GMC Sierra through the view of the 17-year old driver who has never lived in a world where the Sierra Denali did not exist.
Improved Safety in the 2019 GMC Sierra
The higher driver's seat offers a better view of the road and increased comfort, which also includes additional ergonomic settings that help avoid driver fatigue. The 2019 GMC Sierra offers the first full-size pickup to project key information about the vehicle onto the windshield in a multi-color 3x7 head-up display within the driver's line of sight. Surround Vision projects an overhead bird's-eye view of the truck onto the display screen, thereby assisting the driver when backing up. It helps detect, locate and identify potential obstacles when backing up, including when hauling a boat or trailer. These 2019 features enhance the usual cutting-edge protection elements, including pedestrian detection, low speed forward automatic braking and side blind zone alerts.
What is the Carbon Fiber Composite Truck Bed?
The 2019 GMC Sierra Denali introduces an industry first truck bed, or box, made of carbon fiber composite. A first for the pickup truck industry, this material is 62 pounds lighter than its old steel counterpart and offers 63 full cubic feet in the bed. Called CarbonPro, it utilizes the extremely high weight to strength ratio in carbon fiber to its advantage.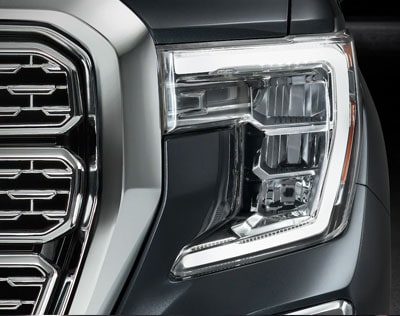 Not only does it have a totally radical look, it is far more scratch and dent resistant than steel. Additionally, corrosion protection is far greater than traditional metals provide. Naturally, this truck box offers the most durable materials and design ever manufactured. Moreover, GMC offers another new idea by making a 110-volt power outlet available.
Is This Truck Better For Tailgating?
A revolutionary two-piece tailgate has six positions and functions: Primary tailgate function activated with a key fob or touching a button on the gate
Load Stop within the primary tailgate allows securing and hauling long items by leaving the gate open and a compartment near the top swings outward, acting as a load stop to contain the longer, oversized object
Open the tailgate, fold down the inner top portion and you create a D-shape opening so you can get closer to access things like groceries to haul them out easier
Close the tailgate and fold down the inner top portion and open it outward, another gate portion then flips up so you have a load stop for long items higher in the bed
Create an extra full-width step by folding the gate again from the easy access position, this supplements the rear bumper corner integrated steps and holds 375 pounds
Flip down the easy access tailgate part with the gate closed and you have a built-in stand-up work surface useful for prepping food at tailgate parties or using as a standing desk to write work orders
An ingenious design, this six-function tailgate represents a totally fresh concept that is incredibly practical. 2019 GMC Sierra Denali tailgates set tough standards for all other truck designers and manufacturers.
Does The New Design Bring Improved Space?
Proportionally, the 2019 GMC Sierra Denali has grown larger in every way. A wider wheelbase sets its massive tires on the outer edges of the truck for increased stability. It has larger trim details and a bigger grill and logo. Inside the cab, there is additional headroom and legroom all around with the rear seat passengers gaining three more inches to stretch their legs. New features include outboard rear seatback areas for laptops, tablets or other thin, small items as well as increased interior storage space.
These innovations are just highlights of all the ways 2019 brings GMC cutting-edge standards to an industry scrambling to catch up. GMC extends a gracious invitation to come on over and take a peek at all the improvements available in the 2019 GMC Sierra Denali and to pickup trucks in general. Your GMC dealer is happy to answer any questions you may have about the Sierra and other GMC vehicles. Come down and check out the incomparable GMC vehicles today or any time it may be convenient for you to stop by.