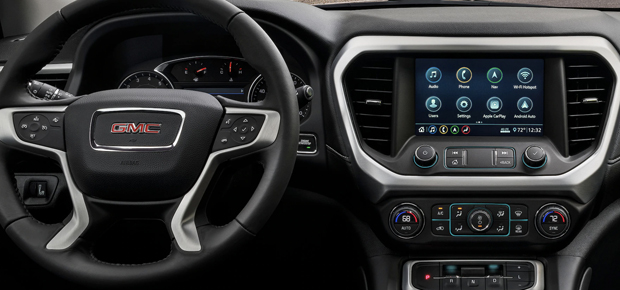 In 2017, GMC introduced a new, first-of-its-kind app for its line of trucks and SUVs. GMC Marketplace is an innovative in-vehicle app that opened the world of e-commerce, allowing drivers to have access to several convenient features. With a tap of the patented Infotainment System, drivers will now be able to do anything, from ordering food to paying for fuel. GMC has elevated its standard for versatile features with Marketplace, and here is how to set up and use the Marketplace app in your GMC vehicle.
Using the interface for your GMC infotainment system, swipe the screen to locate the Marketplace icon. If you can't find the app in your infotainment system, you will need to download it from the GMC Shop app. Once the app loads, you can press the "Get Started" button on the screen. You will then need to check the boxes to accept the terms and conditions.
Once you have checked the boxes, you may press "Continue." After continuing, you will need to enable the notifications setting so that the app will notify you when your orders are placed and when payments have been processed. All of your preferences can always be adjusted in the "Settings" menu after you have set up Marketplace. The last step is to sign in to Marketplace with your Owner Center information.
Once the set up is complete, you can use Marketplace by tapping on the icon to open the home screen. You can explore the featured content or jump to different categories, such as Order Food and Fuel up, using the navigation bar. Marketplace provides access to services from many different brands. The merchants available will be in accordance to your immediate area.
When you select a merchant in the app for the first time, you will be required to use an existing merchant account or create a new account to be linked to Marketplace. This can only be done through a mobile device, such as your phone or computer, and not within the app itself. Establishing payment methods have to be done on a mobile device as well. Once you have set up your account, you can connect with that merchant through the app to interact with or to complete any transactions.
Marketplace integrates modern technology to open GMC owners to the world of e-commerce. If you are interested in learning more about this or other GMC features, feel free to contact us or visit our dealership today.