If you feel like you're in a car that's a little more unique when you step into a GMC, there's a reason for that. GMC puts a lot of thought and detail into its vehicles, regardless of whether they are trucks, SUVs, or sedans. From the start, one novelty you may notice is that the interior of GMC cars actually share some of the same design features as their exteriors, such as signature lighting and bold shapes. Inside the car, this provides visual intrigue and enhances passenger comfort. Novel technology and safety features are other interior highlights. Here are five things to look for.
Innovative Infotainment Technology
Leading technology is certainly one feature you'll find in a GMC vehicle. In 2019, for example, the GMC Sierra Denali has a state-of-the-art interior with a 15-inch head-up display. What strikes you about this display is that it has a large screen and vivid color. Best of all, it's fully customizable, so you can see information displayed exactly as you prefer. This addition makes the Sierra Denali the first in its class to have such technology.
Bird's Eye View Cameras are Available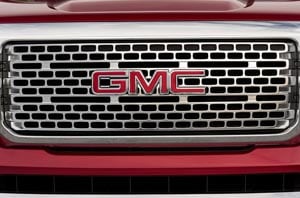 Look into many of today's vehicles, and you'll find backup cameras or rear parking sensors. But GMC advances that technology with the addition of a camera with surround vision. The camera keeps an eye on your car's every move and relays real-time images right to your dashboard display screen. This feature is helpful to everyone, but it's especially beneficial if you are pulling a trailer.
How Do I Stay Connected in Today's World?
These days, just about everyone wants to keep up with the news, see what their friends are up to, and catch up with acquaintances on the road. Whether you're going to the grocery store or embarking on a weekend getaway, GMC makes it easy to stay plugged in to the world. An eight-inch entertainment center features phone and app connectivity to help you safely take and make calls. Depending on the model you get, up to five USB charging ports keep your electronics fully charged.
Premium Materials
Unlike many manufacturers, who are trading quality for quantity, GMC is refreshingly different. GMC's engineers have worked hard to make an interior that is luxurious, well-built, and comfortable. For that reason, you'll find high-end touches like wood grain trim, chrome accents, and leather seats that can be heated or ventilated. For GMC, building a vehicle is just as much of an art as it is a science.
A Strong Focus on Safety
Traditionally, passive safety features like seat belts were just about the only safety mechanism you'd find in a car. Fortunately, times have changed, and you'll find the latest in safety technology in a GMC. Although standard and optional safety amenities vary by model, you'll get a number of proactive safety devices that help detect and avoid accidents before they happen. Blind spot monitoring, lane change alert, lane departure warning, and forward collision avoidance with automatic emergency braking are some notable safety highlights.
Times are changing in the automotive industry, and many companies are keeping up. But with its leading technology, safety features, intriguing cabin design, and luxurious materials, GMC is surpassing the competition. When you're ready to see the difference that a GMC interior makes, don't hesitate to contact us online or give us a call. A friendly, helpful staff member will gladly show you a Denali, Sierra 1500, Yukon, or any other vehicle that you'd like to take for a drive.