Take a Look Lincoln GMC Shoppers - the Savana 1500 has Arrived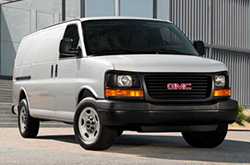 GMC Savana passenger and cutaway vans have become some of the most popular vehicles in the passenger and commercial van market. With their ample cargo space and comfortable seating of up to twelve adults, GMC Savana vans continue their reputation as the ideal vans for small businesses and families.

Discontinuing the Savana Passenger 1500, GMC is putting their full concentration toward the 2500 and 3500 models on the passenger vans.

Taking a closer look at the 2500 model, passenger van shoppers looking for a 2015 GMC Savana in Lincoln will be impressed with its 4.8-liter V8 engine that puts out 280 horsepower and 295 lb.-ft. of torque. That ample amount of power is routed through a six-speed automatic transmission, meaning that the 2015 Savana can tow up to 9,600 pounds and carry over 2,500 pounds of payload.

The 3500 model is the power juggernaut in the passenger van market with an unbelievable 6.0-liter V8 and 6.6-liter diesel V8 engine options that produce up to 324 horsepower and 372 lb.-ft. of torque on the gas engine model alone. And with a towing capacity of 9,700 pounds and a payload rating of over 3,500 pounds, our 2015 GMC Savana review recommends the 2015 Savana 3500 to small business owners shopping for their businesses next van.

For commercial van shoppers, the 2015 Savana cutaway continues to be the top choice for its power and variety of uses.

Coming in a new emerald green color, our 2015 GMC Savana review especially loves the three engine options on the cutaway, though our favorite continues to be the exceptional Duramax 6.6-liter turbo-diesel. And with other features that include power steering, four-wheel anti-lock disc brakes and an independent SLA front suspension, the 2015 Savana is the cutaway van to beat.

All models of the 2015 GMC Savana are for sale in Lincoln, so come on by our showroom and test drive one of these fantastic vans today!