About Yukon Reviews for 2015 from Husker GMC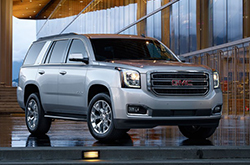 Searching for a SUV with the power and space of an Escalade, but without the hefty price tag and even heftier fuel mpg? Then look no further than the 2015 GMC Yukon in Lincoln.

With a luxurious interior cabin, ample amount of passenger and cargo space and a terrific V8 engine, the 2015 model is the best Yukon to come out of GMC so far and our 2015 GMC Yukon review has all the new amenities and features that this popular SUV has to offer.

Getting a full redesign this year, the 2015 Yukon boasts a new folding third-row that bends into the floor for added cargo space as well as your choice of two V8 powertrains. Add to that new infotainment features that include a new eight-inch touchscreen with smartphone integration and you've got a modern Yukon that speaks to the past, but rises to the future.

And don't worry if you thought this new Yukon lost any power. On the contrary, the 2015 Yukon still claims amazing four-ton towing and payload capabilities, it just does so in a much more confident and efficient way than in past models.

But if you're looking for the model with the best features then look no further than the Yukon XL. Also boasting a new redesign, the Yukon XL goes bigger and badder on all aspects of the standard Yukon with increased towing power, engine performance, cargo space and more luxurious cabin amenities.

And if you're looking for the ultimate Yukon experience then our 2015 GMC Yukon review recommends going with the 2015 Yukon Denali XL. With a bigger V8 engine, even more safety features and a plethora of interior cabin amenities, this is the ideal version that Yukon-lovers will be looking for.

All versions of the 2015 GMC Yukon are on sale in Lincoln, so drop by and test drive one these bad boys today!