What's New for the 2023 GMC Yukon Denali Ultimate?
The Denali Ultimate is itself new as a package that turned into a trim, essentially.
2023 Yukon Denali Ultimate Trims and Features
This trim has a dark chrome appearance for the exterior of the car, giving a sense of quality and durability. The interior has a leather appearance for comfort. The front seats have the 16-way power option, which also has massage abilities if you are so inclined.
In addition, the audio speakers are built directly into the headrests. It has three rows and two different kinds of chrome. This helps it jump ahead of other options. The Galvano and Vander chrome help the vehicle show off its aesthetic look. That's because they are a combo of lighter and darker chrome.
The windows have chrome trim, and the wheels also have some dark paint splashed in. On the inside, there's aluminum trim also on the interior. Tiy gets the supercruise driver assistance tech and the rear-seat entertainment package as well.
The vehicle will be known as being one of the top Full Suv options around. Rich leather with plaited stitching covers the 3 tows. The dashboard is going to have the Paldao wood trim. It will also feature a topographical map of Mount Denali in etching. The speaker count will be at 18, including the ones in the seats. The rear-seat package will feature screens on the back of the front seats.
The Super Cruiser tech will feature options like auto lane changing and one to assist with towing.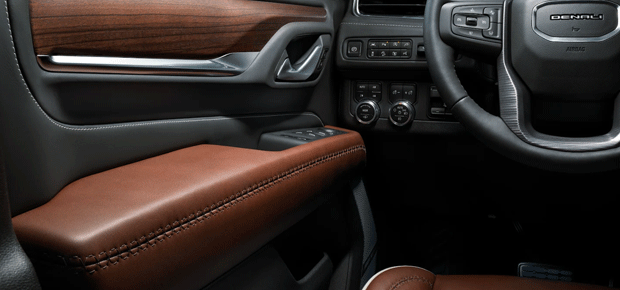 2023 GMC Yukon Denali Ultimate Horsepower
The engine is said to be a V8 with a 10-speed auto transmission. The actual horsepower is rumored to start at around 277 hp and go all the way up to 420.
GMC Yukon Denali Ultimate Safety
The Super Cruise driver-assist suite should allow for hands-free cruising through pre-mapped territories. It will allow you to change lanes automatically with the turn signal and start towing handsfree. This will be on top of the usual suite of safety features for keeping you secure on the highway.
Visit Us in Lincoln Today
For more information on the upcoming Yukon Denali Ultimate, please don't hesitate to make contact with us today. The sooner you reach out, the sooner we can make sure that you stay in the loop. We look forward to hearing from you at your earliest convenience.
Yukon Denali Ultimate Questions
* Indicates a required field
Sorry, we do not currently have any featured inventory on our website.
Please call 844-869-9472 for further assistance.