Hey, Are You Wondering Where You Can Have Your GMC Transmission Repaired in Lincoln, NE?
Have you ever asked yourself, where can I have my GMC transmission repaired near me? Taking excellent care of your GMC car, truck or SUV is a top concern, but you may not be doing everything possible to keep serious repair issues at bay. Your GMC's transmission endures tremendous force from pressure, heat and other elements through the regular operation of the vehicle. Keep in mind that the transmission is the system in the car that essentially controls its torque and power. Without a well-maintained transmission, your vehicle simply would not operate. Dealing with a serious transmission issue can be a frustrating experience. In some cases, your vehicle may not function at all until repair work has been completed. The good news is that our service center provides you with all of the maintenance services that your transmission may need over the years, and these services can minimize or even eliminate repair issues from developing.
When Do I Need to Change My Transmission Fluid?
As a general rule, transmission fluid should be flushed approximately every three years or every 45,000 miles. Keep in mind that each make and model is different, and there are also variations related to how you drive your vehicle. A smart idea is to request personalized information about your GMC's maintenance needs by reaching out to one of our helpful and knowledgeable auto service technicians. Checking the color and consistency of the transmission fluid is a smart way to determine if a fluid flush is needed at this time, and we can complete this step for you. A fluid change is another related service to consider. We can complete both of these transmission fluid services for you, and we also have the knowledge, tools and supplies to complete any other auto service needs that your GMC has.
What Is the Difference Between a Transmission Fluid Flush and a Fluid Replacement?

With a fluid replacement or change, transmission fluid is usually drained from the pain. In addition, the transmission filter is usually replacement. Keep in mind that some of the older fluid remains in the vehicle with a fluid change. On the other hand, a transmission fluid flush is more detailed, and it involves draining all of the fluid from the pan, cooler lines and torque converter. The filter is usually changed with this service as well. The decision to schedule a transmission fluid flush or replacement is at your discretion, but you should keep in mind the recommendation of our auto service technician. You can also keep in mind how frequently you schedule regular transmission service for your vehicle.
How Do I Know When Transmission Service Is Needed?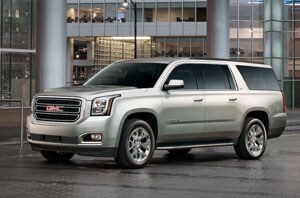 You are now aware of the recommendations regarding transmission fluid change service and flush service, but remember that there are other components in a transmission that may also require service from time to time. Regular fluid services can prevent or delay many repair issues from developing, but you may notice signs of issues at some point if you are observant. For example, a damaged transmission may cause the vehicle to jerk or pull when it is shifting gears. The engine indicator light may turn on, or you may notice an unpleasant smell of burning fluid when the engine runs. Another sign of trouble with the transmission is the presence of fluid leaking underneath the car. As soon as you identify any of these signs, bring your GMC to our service center. By doing so, you can reduce downtime and potentially prevent the issue from becoming more substantial.